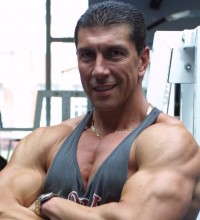 Nash Jocic
PERSONAL TRAINER
I have been involved in personal training for over 25 years. As a competitive bodybuilder with 46 competitions internationally and 17 victories, I have generated deep knowledge and experience in training and nutrition that have helped me transform thousands of clients throughout my long and rich carrier. I have published 7 books, 14 training DVDs for men and women and countless articles in the most famous fitness magazines globally.
I have developed a unique training system known as NashFit Training, that I use in order to help my clients see changes even after only few training sessions! By applying different training techniques and dietary guidance depending on his clients' goals, needs, fitness level and other individual specifics, I have created a perfect formula for success. Either your goal is better health and shape, getting that famous six-pack or becoming a champion bodybuilder, I will guide you every step of the way until you get there in record time!
I am an extremely motivating person who is very passionate about your success. I will always get the best out of you, make you push that impossible final rep and guide you to become the best that you can be. Training with me will empower you to look better, feel great, be strong and live a healthy and successful lifestyle.
Session description:
NashFit Personal training is based on the unique and extremely effective NashFit Training Method. After the initial assessment, clients will be given a personalised training and nutritional programs created by Nash. While emphasis is always on the laws of biomechanics (perfect form of exercising) and necessary level of intensity, clients will be gradually introduced to more intense training techniques. All our trainers are very skilled and also experienced athletes themselves. They are very enthusiastic, committed and passionate about your success.
Years experience:
25 years