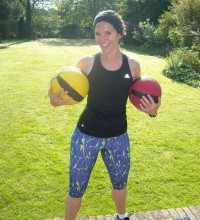 Kate Stewart
PERSONAL TRAINER
I'm passionate about fitness and if you're looking for a fun, challenging and ultimately rewarding personal training programme – you've come to the right place. I'm here to get your heart rate going. I'm here to give you that extra push. I'm here to put a smile on your face. And I'm here to help you achieve your goals.
Session description:
Press-ups in the park. Lunges in your living room. I will tailor each workout session around you. Typically you can expect a bit of boxing, kettlebells, core work, interval training, resistance training, cardio work, drills and circuits.
Come and visit me at Love Your Body Health Hub, 150-152 Cassland Road, London, E9 5DA. I also train in the following parks: Victoria Park, London Fields, Clissold Park, Well Street Common and Hackney Marshes.
With me you'll get the one-to-one attention you deserve, the honest advice you're after, and the guidance and motivation you need to help you reach your goals. We'll start by discussing your past and present fitness activity, as well as any goals you'd like to achieve through exercise. Then comes the sweaty part. After that, it's entirely up to you whether you'd like to sign up for further sessions. No joining fee, no contracts, no pressure.
Qualifications:
Level 3 qualified personal trainer through YMCA fit
Years experience:
5 years

Pricing:
One-off 60 min session £52.50
3 x 60 min sessions £150 (£50 per hour)
12 x 60 min sessions £540 (£45 per hour)
24 x 60 min sessions £960 (£40 per hour)
Sessions are for 1-2 people so why not bring along a friend and split the cost!